Spotlight on a deadly gas, disease and puberty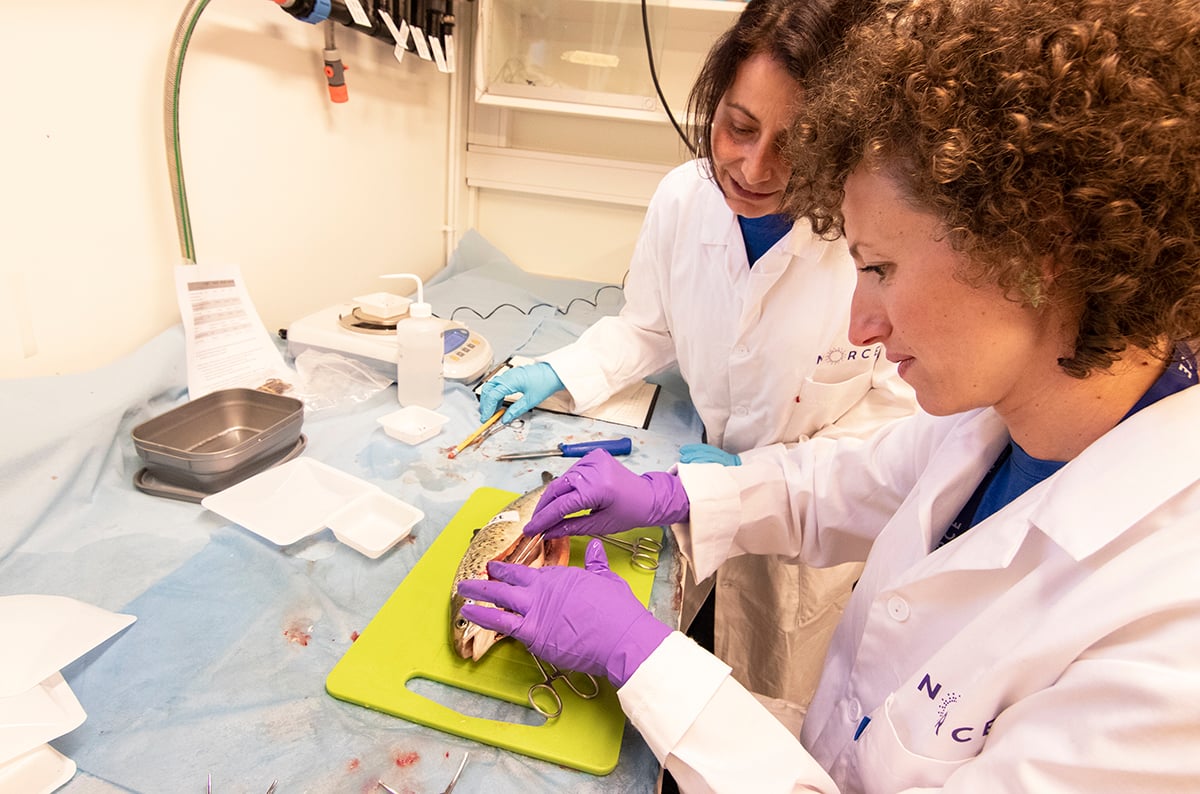 During the lifetime of a Centre for Research-Based Innovation (SFI), there is a high probability that new challenges emerge and must be resolved in order to achieve the goal. In the case of CtrlAQUA, the ambition is to make closed-containment systems for salmon up to one kilogram into off-the-shelf systems by 2023.
Written by: Reidun Lilleholt Kraugerud for the CtrlAQUA Annual Report 2019
After conducting the mid-way evaluation, the Centre has decided to tackle three new challenges, which we formally call "areas of focus". These three areas of focus are hydrogen sulfide gas (H2S), the disease called nephrocalcinosis and early sexual maturation, all of which have received great attention in recent years, especially in RAS.
"In CtrlAQUA, work being done on the areas of focus is incorporated in projects we are already working on. Everything that takes place there will be applied and solution-oriented", says Centre Director Åsa Espmark.
The deadly gas H2S
Hydrogen sulfide gas is a colorless and toxic gas that occurs in biofilm or sediment in water and has been suspected to be the cause for occasions with mass mortalities among farmed fish. The dangers that this gas poses are difficult to detect in advance, and it has become a significant problem in seawaterbased recirculating aquaculture systems in recent years.
The key to understanding the dynamics behind H2S formation is to understand the chemical reactions that occur in biofilm and sediment. In CtrlAQUA they will investigate how much sedimentation has to take place before H2S is formed and identify risk factors in order to prevent H2S formation.
"We also hope to find indicators in the fish, or Spotlight on a deadly gas, disease and puberty sensors that measure low levels of the gas or H2S precursors. One current problem is that the gas isn't detected early enough. When an outbreak eventually occurs, there is a risk of losing every single fish at the facility", says Espmark.
Risk factors for kidney stones
Nephrocalcinosis, or kidney stones as it is also called, is a chronic kidney disease that is a growing problem in salmon farming. Kidney stones in salmon can cause difficulties in regulating salt balance and transition to seawater, reduced growth and feed utilization, and increased mortality rates. It is reported as being a problem in post-smolt, large smolt and in salmon that are kept in land-based tanks for long periods of time. The fact that salmon are kept in land-based tanks for long periods of time has several positive effects, including on health, welfare, growth and the environment, and it makes the problem of kidney stones all the more important for the industry to solve.
"The aim is to find kidney stone risk factors in salmon that can explain the increase in the number of reported cases", says Nofima's Lill-Heidi Johansen, who leads the fish health research at CtrlAQUA.
Johansen hopes they will gain a better understanding of the physiological mechanisms behind the disease. In the long term, the researchers will also develop methods of early detection and come up with preventive measures to reduce its scale.
How to hinder early puberty
Early sexual maturation in farmed fish is a known welfare and financial problem that has increased in high intensity production of large smolt and post-smolt in RAS, particularly when temperature and growth is high.
"Generally speaking, the process of sexual maturation in males may start already when salmon reach 50 grams. When they reach the 4 to 500 gram phase, the process is increasing in intensity", says associate professor Tom Ole Nilsen at the University of Bergen and head of the production and welfare department at CtrlAQUA.
"Can the light be used differently as a preventive measure? Are there any temperature intervals we should avoid? We think it's a combination of several factors, but we don't know what triggers it all", says Nilsen. The aim is to clarify how factors such as light, temperature and fish size can affect early puberty in post-smolt.